Designer Spotlight: Cara Hovius – The first female DiscGolfPark designer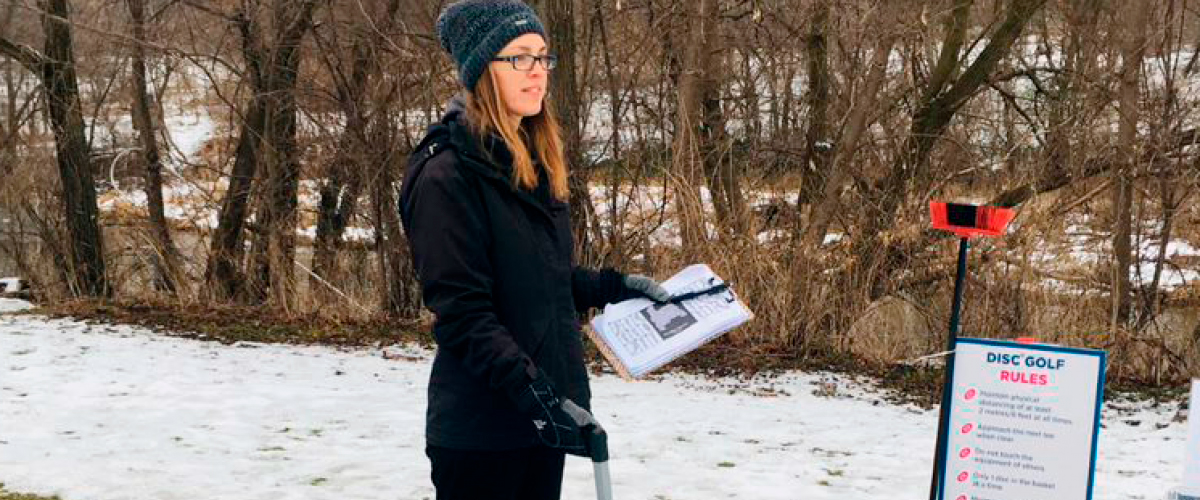 Cara Hovius is the first female DiscGolfPark designer. She was in her 30s when she was introduced to the sport of disc golf in 2017: "I have never been a very sports-orientated person, but I love hiking and being outdoors, so it was wonderful to learn of a sport which incorporated both of these joys. I wish I had known about disc golf many years earlier".
Cara soon started volunteering at numerous events across the province of Ontario, her first job being a flag waver at a local charity tournament called the Hairy Harvest, in support of Movember at Toronto's E.T Seton Disc Golf Course. After doing some volunteering work at disc golf events, Cara got inspired by the incredible dedication of TDs and wanted to support this part of the disc golf community. Cara has always enjoyed organizing things and bringing people together, so directing events was a natural evolution for her.
This year, Cara is a TD for 2 PDGA A-Tiers, and a C-Tier. She also was the TD of the first ever Toronto Open which was hosted at two of the courses built in Toronto (Beaches Disc Golf Course & Marilyn Bell Park Disc Golf Course). Cara is also supporting a bunch of great events, such as the inaugural tournament for a new course she designed, as well as acting in a supporting role to some of the amazing women behind the WGE events in Ontario.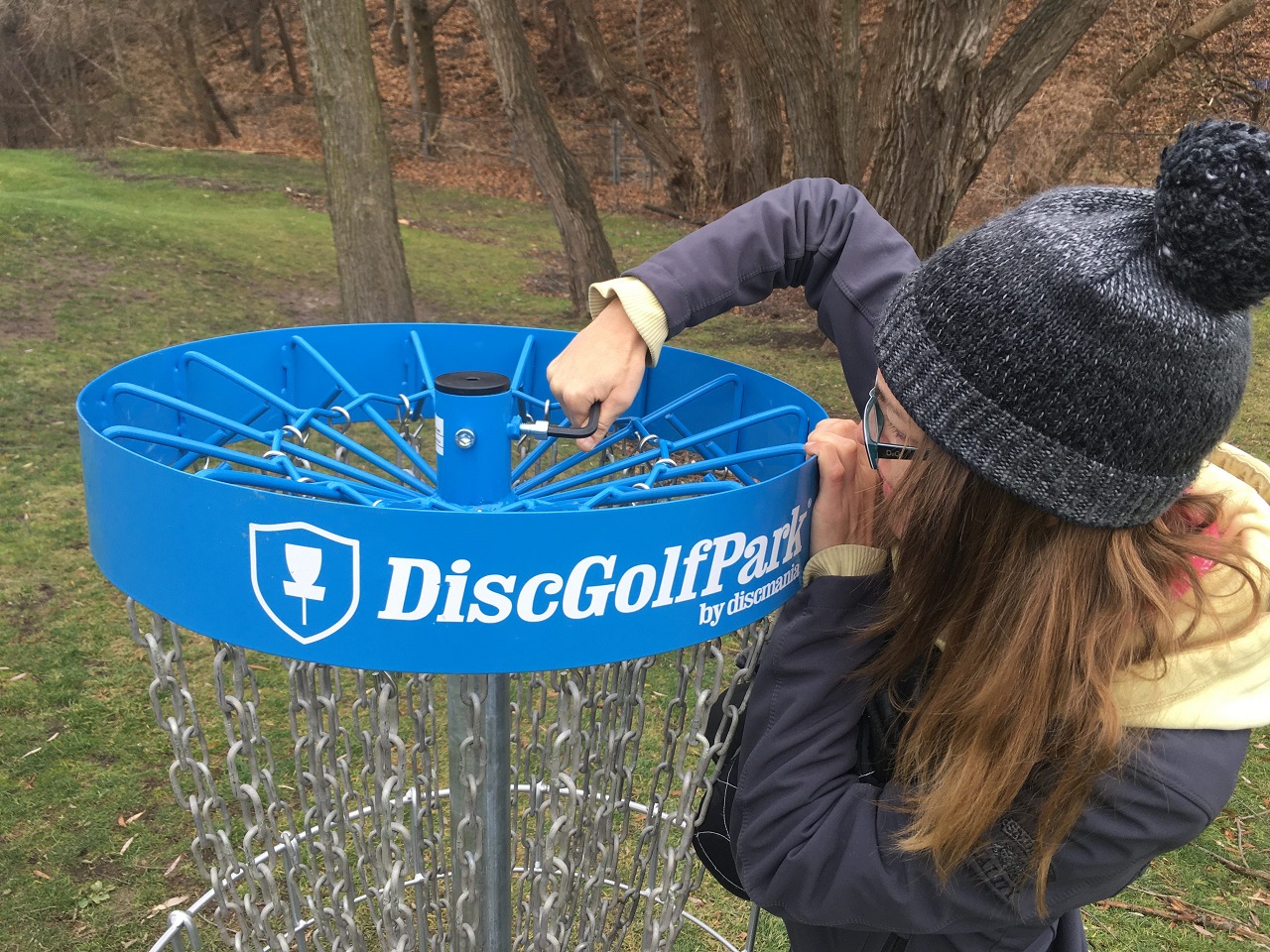 Partnering with DiscGolfPark
Cara's experiences with DiscGolfPark: "I am honoured and proud to be a DiscGolfPark course designer! DiscGolfPark is such a respected disc golf brand worldwide, and it's inspiring to be part of a team of people I can learn from every day. The DiscGolfPark team in Canada is a very tight knit group. We all share our experiences and best practices with a serious focus on growing Canadian golf in a sustainable way".
Cara's DiscGolfPark designer profile: https://www.discgolfpark.com/designer/cara-hovius/
Women of disc golf
Cara has met so many strong and capable people in the disc golf community, many of them being women. Her seeing the game through their eyes has helped a lot while designing courses which are fun for everyone. Cara says everyone benefits when there is a diversity of people represented in all facets of the sport.
Cara also believes her perspective helps provide a rounded approach to the game and to course design. She just finished designing a course on a traditional golf course 3 hours east of Toronto. The course design features a 3 in 1 concept which caters to new players, experienced AMs, and pros.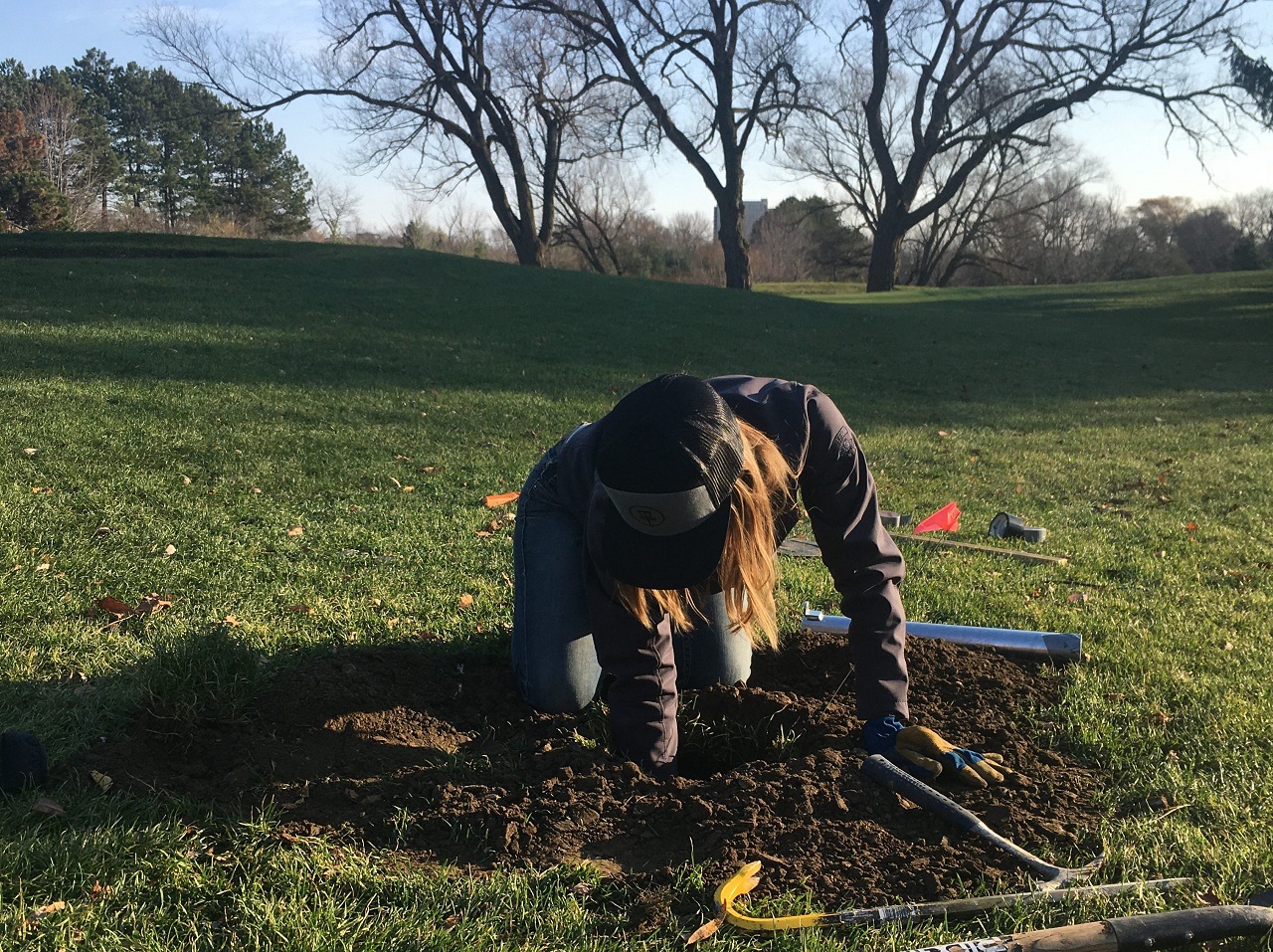 Career within disc golf
Cara loves her career within disc golf for many reasons, one being the fact that she gets to share this sport with more people, especially schools and those who are brand new to the sport. Disc golf brings so much happiness to so many people. Some people have shared how disc golf has changed their lives and these messages have been so meaningful and heartfelt to Cara, that she finds herself going back later to reread them again. These kinds of messages remind Cara to keep pushing forward no matter the challenge.
Cara says disc golf is something that by its very nature is not globally mainstream yet. As a growing sport, there is so much room to try new things and ideas that haven't been done before and see how it works. The DiscGolfPark team is so open to new ideas and with such a 'can do' attitude. She also looks forward to more fun and unique approaches and trying new things!
Future of disc golf
Cara explains that disc golf has experienced a surge of interest through COVID, with many people picking up the sport and trying it for the first time. When she first started presenting to city councils, parks, schools, conservation authorities, private land owners, or businesses many people didn't know what disc golf was, but today she sees more and more people who nod in agreement or who have already been introduced to the sport.
As disc golf continues to grow, she wants to keep the culture of the game and the community feel. At the same time, disc golf will be taken up by larger numbers as a recreational activity meant purely for fun. Cara will focus a lot of her attention on the new players in her course designs, and by focusing on events which help meet their interests as well as sharing with them the elements of the disc golf community which make this game so welcoming.
Cara will continue to focus on supporting the disc golf community through courses, events, and community. She hopes that the next generation of disc golfers doesn't have to wait until they are in their 30s to learn about the game!