Paul McBeth Foundation & DiscGolfPark unite to create Montenegro's first course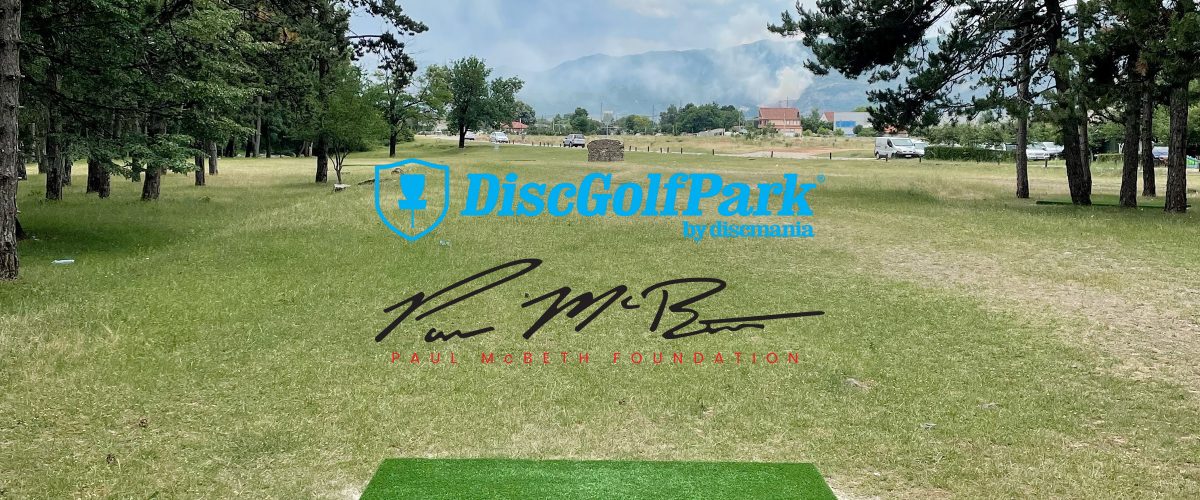 Find the heel of Italy's boot shape and draw a line northeast across the Adriatic. There you'll find the small country of Montenegro, which has just over 620,000 residents – a total a little under the population of Memphis, Tennessee.
In 2022, this former part of Yugoslavia became the site of the first European project for the Paul McBeth Foundation (PMF), a charity founded by a multi-time World Champion disc golfer with the mission to "develop and introduce sustainable disc golf experiences in underserved locations with limited or no access to the sport." As a business started in Europe, we at DiscGolfPark couldn't be more proud that we had the chance to collaborate with PMF and provide Montenegrins a professionally designed and installed course free of charge.
Trebjesa DiscGolfPark in Nikšić is the first and currently only permanent place to play disc golf in Montenegro.
Though certainly rewarding, the work was far from easy as limited resources in Montenegro meant almost everything had to be done with hand tools, brute strength, and patience in temperatures around 90°F/32°C. Below, the voices of lead course designer and builder Avery Jenkins (2009 Disc Golf World Champion) as well as Cara Hovius and Jeff MacKeigan of DiscGolfPark and Canada's ChainLink Disc Golf help tell the story of the project's origins, the challenging install, and the huge payoff of witnessing a populace discover and fall in love with disc golf.
European project a perfect fit for DiscGolfPark
Discmania – a disc golf equipment company that, like DiscGolfPark, is a part of parent company Spin18 – is a Gold Level partner of PMF. At the beginning of this year, we spoke about what projects PMF had on the table and where it made the most sense to join forces.
"We were in talks early in the season…and there were Nicaragua, Columbia, and a few other locations – even Africa was in the mix – and this Montenegro one stood out with it being a European country and us being a European company," Jenkins explained.
The project was on PMF's radar thanks to Vukasin Baosic, a Montenegrin who'd discovered disc golf while studying abroad and whom friends from the Netherlands encouraged to apply for assistance from the Foundation to bring disc golf to his homeland. Baosic is a widely respected person in the university town of Nikšić, and it was clear that he had the reputation and connections that would help a disc golf community thrive if given the right resources.
It didn't take long for PMF, DiscGolfPark, and Discmania to agree that we'd be happy to work together to provide those to him.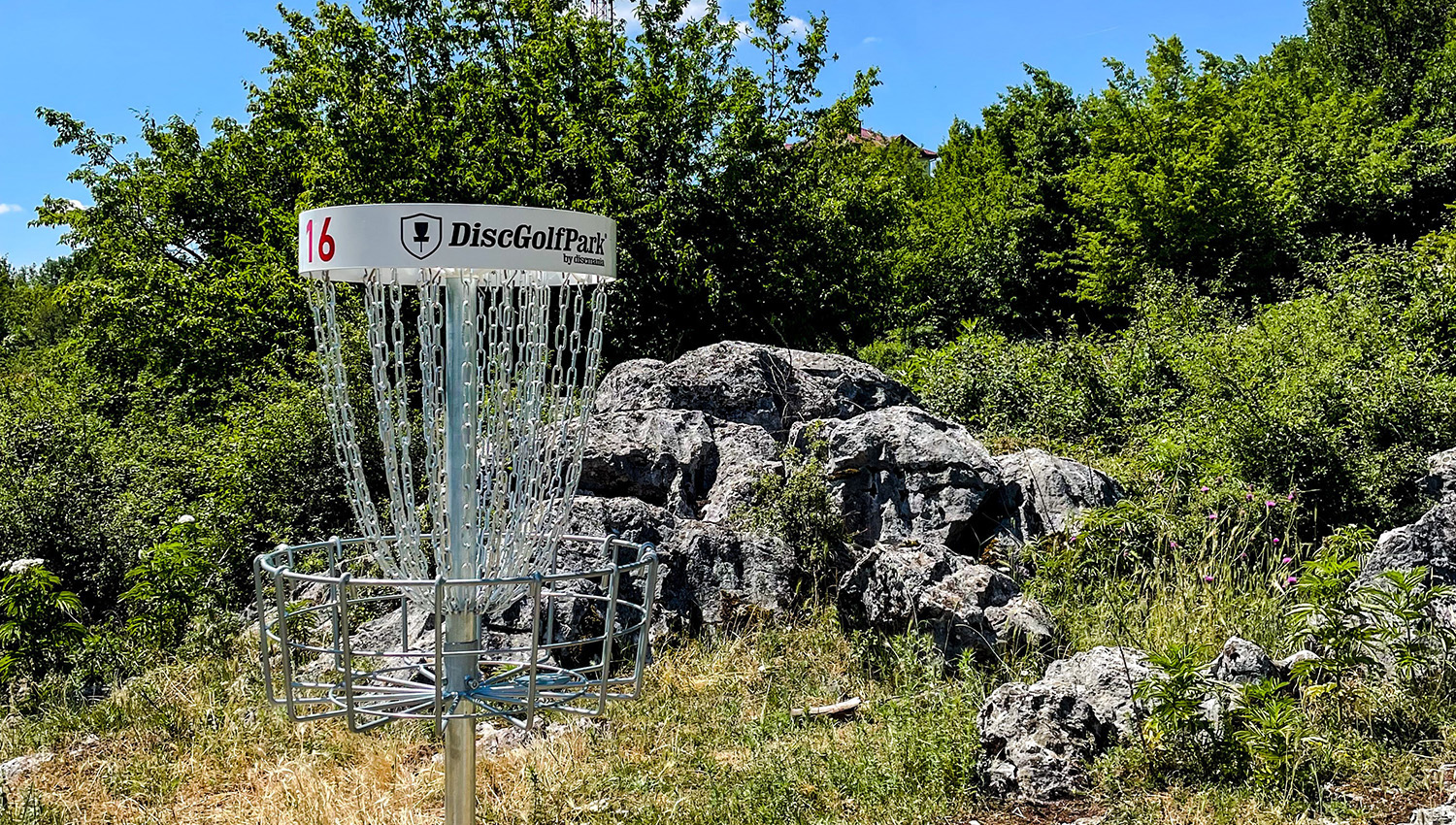 Designing Montenegro's first disc golf course
When Jenkins – an intrepid course collector as well as an elite player and designer – learned about the chance to design the very first course in a country in collaboration with an organization like PMF, he immediately wanted to do it. The work required also matched his skill sets.
"It was going to include not just the design but the full install as well, and I have a lot of experience with that combination – probably more than anyone else in the company," Jenkins said.
Additionally, having someone with a World Championship to his name design a course would help its chances of attracting players.
Jenkins made the sojourn from his home in Oklahoma to Montenegro twice – the first time to design and the second to build. While scouting the area during his first trip, he kept three basics of good disc golf course design in mind: 1) give locals (in this case, all beginners) what they'll enjoy, 2) keep the course easy to understand, and 3) make sure non-players can see the course to spur curiosity.
He at first had hopes that an area criss-crossed with walking paths would provide everything he was looking for (especially course visibility), but it became clear that flying discs and a high number of pedestrians would be far too close together if he put the course there. Since safety is always a top priority for all DiscGolfPark designers, Jenkins quickly changed tack.
"I pushed it off the main circle to back by a church – a cathedral, really – and a big rocky hill called Trebjesa," Jenkins said. "There were little open areas, little wooded areas, nice gaps through the trees, and just really nice spacing. It had everything for a good variety of holes."
He even got his wish for visibility as this new space was intersected by a well-used walking path from which passersby could see the course without worrying about their security.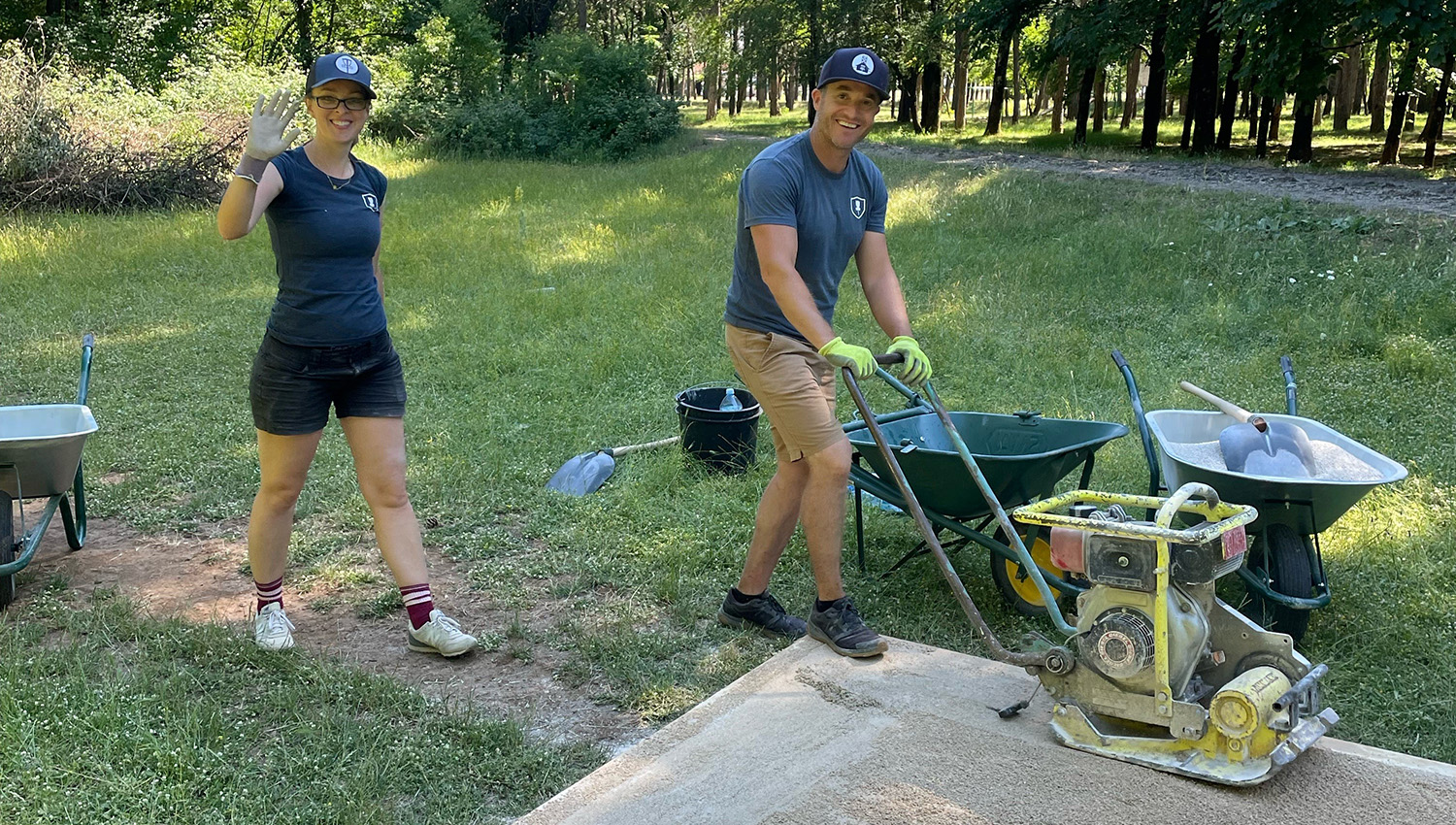 Building Montenegro's first disc golf course
Jenkins finished his design in May 2022. The very next month he, others from DiscGolfPark, PMF representatives, and international helpers arrived in Nikšić to turn that blueprint into a top-notch course aimed at new players. They were joined by teams from disc golf media companies the Disc Golf Network and JomezPro, who came to document the course's installation and grand opening.
It's important to mention that this convergence of so many different people in the disc golf world would not have happened without the tireless organizational efforts of PMF's Director of Operations, Zachary Smith. For months prior to the build week, he was running regular meetings to make sure the project was on pace, and whenever a problem came up during the build, he was there to help solve it.
Because of the course's location in a maintained park (always a great place for a community's first disc golf course), some of the initial work during build week went by fairly quickly.
"We were able to clear almost the entire course in like an hour and a half," Jenkins said.
However, when it came to digging holes for baskets and building tees, it was a very different story. The town wasn't able to provide machinery like a small excavator or a motor-powered hole digger, and Nikšić's terrain didn't make manual labor easy.
"When you dig down a couple of inches, you're hitting rock – big rock," Jenkins said. "And you're creating sparks with a shovel or pick-ax just to get this rock out so you can get the sleeve in and cement it down."
All the baskets eventually went in on day one of the build. The next step was tee pads, which required wooden frames to be filled with gravel before they were covered with our signature turf teeing surface.
Typically, we move and pour gravel with a machine that can fit everything needed for a tee in about two shovel-fulls. In Nikšić, it took 20 to 25 cycles of filling a wheelbarrow manually with shovels and pushing it between 100 and 1,000 feet/30 and 304 meters to the tee location.
"If you're ever doing manual labor in Montenegro, always pack an extra wheelbarrow – we went through six!" MacKeigan advised.
To add to the grueling nature of the build, the starting cord on the one machine the team did have – a motor-powered plate compactor that evened out the gravel surface – snapped multiple times, causing hours of delays.
Thanks to the hard work of everyone involved – including Paul McBeth himself and his wife Hannah McBeth at times – the course was ready to go when the deadline arrived. Though, to be fair, it was a close call.
"We were literally cementing in the course map a half hour before the mayor was showing up for the ribbon-cutting ceremony," Jenkins recalled. "I show up to the grand opening, and everyone else had gone back to the hotel and gotten clean, and I look like a dirtball – dirty, muddy, and sweaty…but it was just me in my natural environment."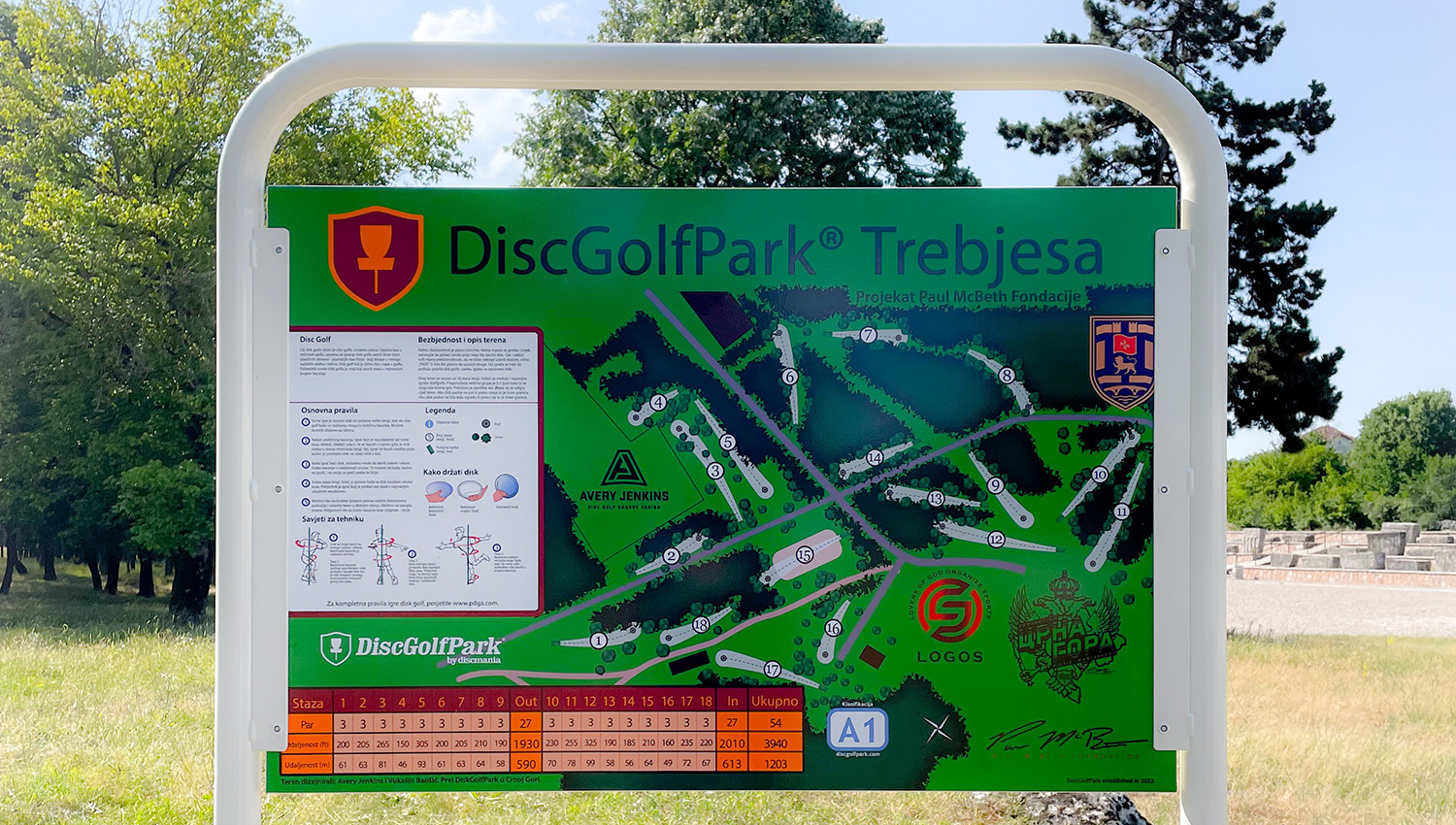 What all the hard work was for
The point of this project wasn't just to build a course but to lay the groundwork for a disc golf community in Montenegro. So as holes became playable, locals were invited to try them out. The McBeths showed a particular passion for this work.
"It was a real pleasure to watch Paul and Hannah engage with some of the new players," Hovius said. "Paul's enthusiasm to share the game with new players reminded me of the passion which brings us all together. Many young girls were interested in trying disc golf, and Hannah's ability to connect with the next generation of female players was such a treat. I can't wait for the day when I'm TDing a tournament and the FPO lead card is full of players from Montenegro!"
MacKeigan, who is working to build disc golf communities across Canada along with Hovius, was also enthused by what he witnessed.
"This reinforced the value of community and the importance of working collaboratively with many people to build a disc golf community," MacKeigan said. "In April 2022…[we ran an] event [in Toronto] focused on supporting environmental stewardship as well as teaching juniors how to play disc golf. Watching the PMF launch their community engagement really showed how we could make a bigger impact by approaching more people beyond those who sign up for the event."
By the end of the week, hundreds of people in Nikšić who'd never so much as seen a golf disc had had the chance to play professionally-designed holes with high quality discs at absolutely no cost.
"The collaboration of so many diverse and motivated individuals to bring Vukasin's dream for Trebjesa Park into reality was truly something I'll never forget," said Smith of PMF.
And what's even better is that the dream hasn't ended. The course is there to stay, and the PMF and Discmania assured that there'd be plenty of discs available for those interested in making disc golf a regular part of their lives.
"You put your blood, sweat, tears into a project like this…but it's not yours," Jenkins said. "It's for the locals to enjoy. And that's a great way of giving back to the sport we all love."