Case: Åland Islands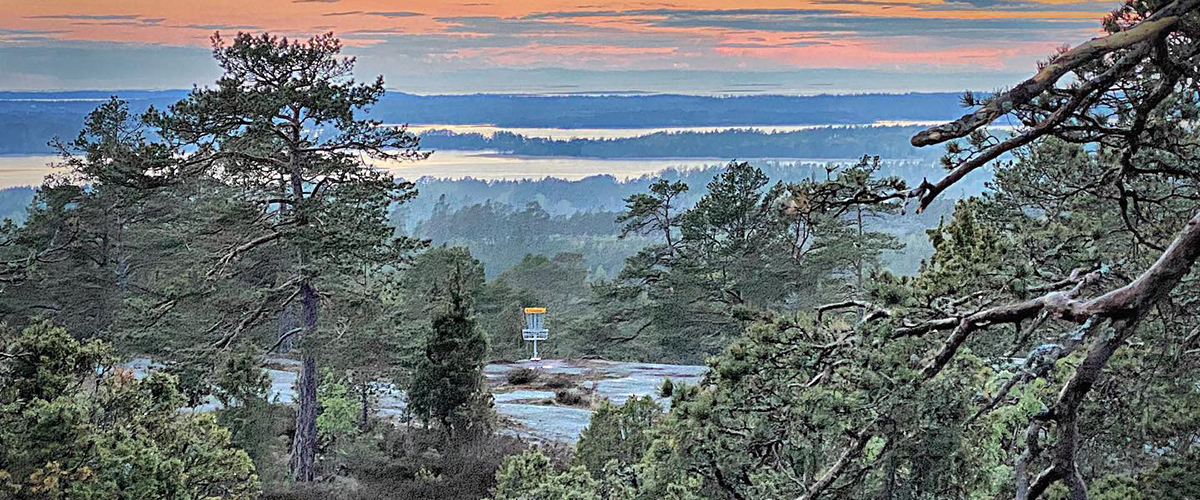 In early 2020, the Åland Islands – an autonomous region of Finland with just under 30,000 residents – made a decision: They would become the world's most attractive destination for disc golf tourists. Situated in the Baltic Sea between Sweden and Finland, Åland wanted to install 16 disc golf courses – one in each of its municipalities. The idea was that the Islands' picturesque landscapes and near-constant sea views paired with a high density of courses would shoot the small archipelago right to the top of disc golfers' bucket lists.
The total would give the Islands the most disc golf courses per capita of any nation in the world. They would also have more courses per capita than any country in the U.S. with a similar number of residents – despite the U.S. being home to almost 70% of the world's courses. Once its mind was made up, Åland didn't waste time. The plan first emerged in April 2020, and by late July, the Islands set a world record by opening 11 disc golf courses on the same day within just seven hours.
Even after just a year and a half, there's plenty of evidence that shows Åland's investment in disc golf was a great choice. For example, disc golf tourist spending covered the cost of the courses within just a few months in 2020 and disc golf was a million-euro industry for Åland in 2021.
Read on to learn more about:
Why Åland chose to go after disc golf tourists
DiscGolfPark's role in helping Åland reach its sky-high ambitions
Signs that Åland is and will continue benefiting from disc golf tourism
Turning your community into a disc golf tourism hot spot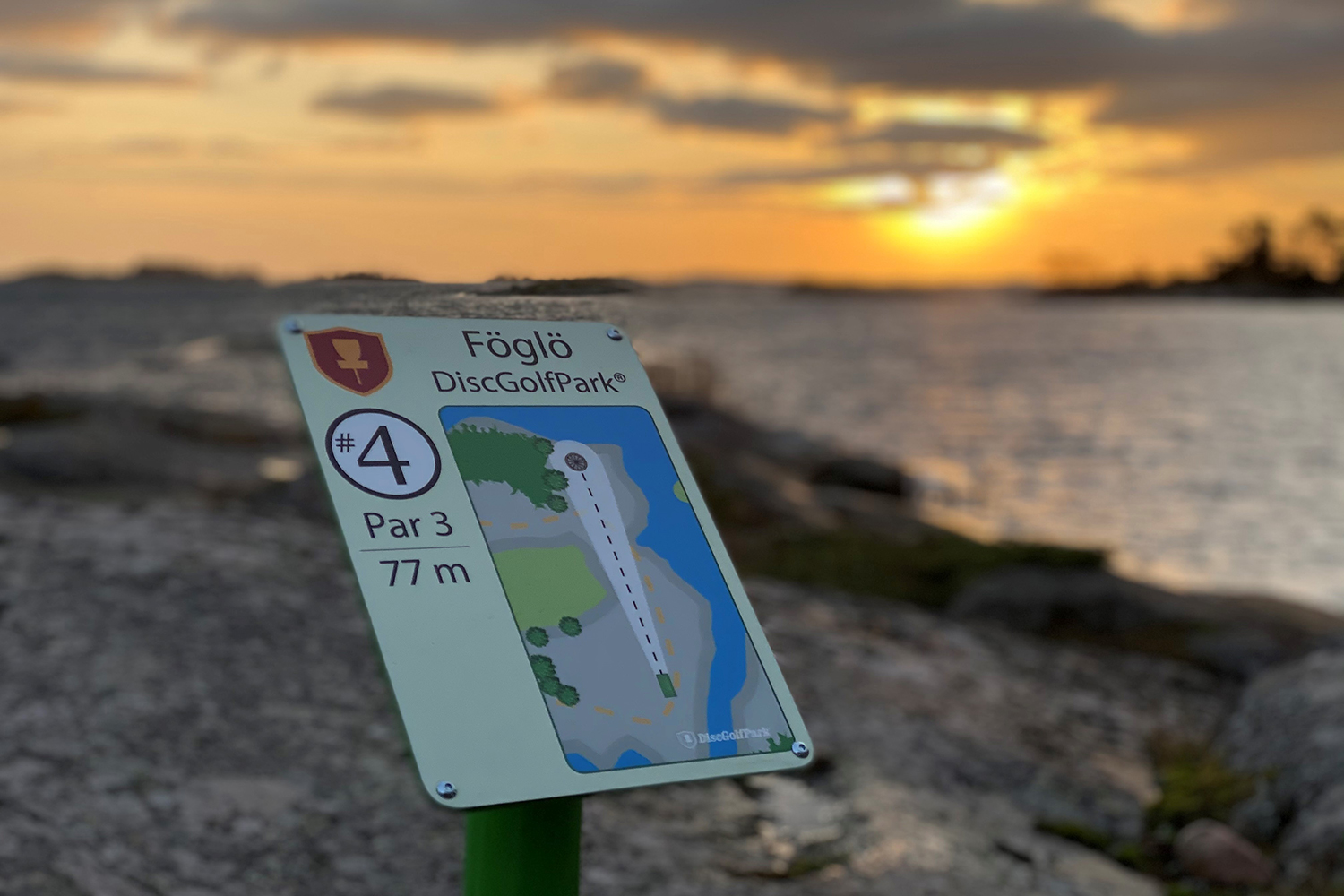 Why disc golf tourism?
Many Åland businesses rely heavily on tourism, and the disc golf plan emerged just as it was becoming clear how devastating the global pandemic could be to that industry. Local businessman and data scientist Mats Adamczak believed that if the Islands created new infrastructure for an outdoor, COVID-friendly activity, it could help draw visitors to the Islands who were looking for a safe, fun getaway during the pandemic. However, the infrastructure would need to continue to benefit the Islands once the world went back to normal, too.
Seeing groups of locals playing a disc golf course that had existed on Åland for decades was a lightbulb moment for Mats. He saw an individual, outdoor sport that could be played by people of all ages and various fitness levels. Next, he needed to learn whether there was much of a market for disc golf tourism. It didn't take much searching to figure out that nearby Finland, Sweden, and Estonia had large populations of disc golfers and that the sport's popularity was growing rapidly worldwide – especially in Europe and North America. Mats then created online surveys whose results suggested plenty of disc golfers would be happy to travel to Åland and stay there for multiple nights if it had enough courses to keep them busy.
Convinced he had found the right activity, Mats settled on 16 courses as the total Åland should shoot for. That high number, he believed, would have numerous benefits: convincing disc golfers to stay multiple nights in Åland and thus spend more, creating buzz about the project in the disc golf community, and benefiting every Åland municipality by giving each one a course. Armed with his research and these arguments, Mats won the support of influential figures in Åland, and his disc golf project got the green light.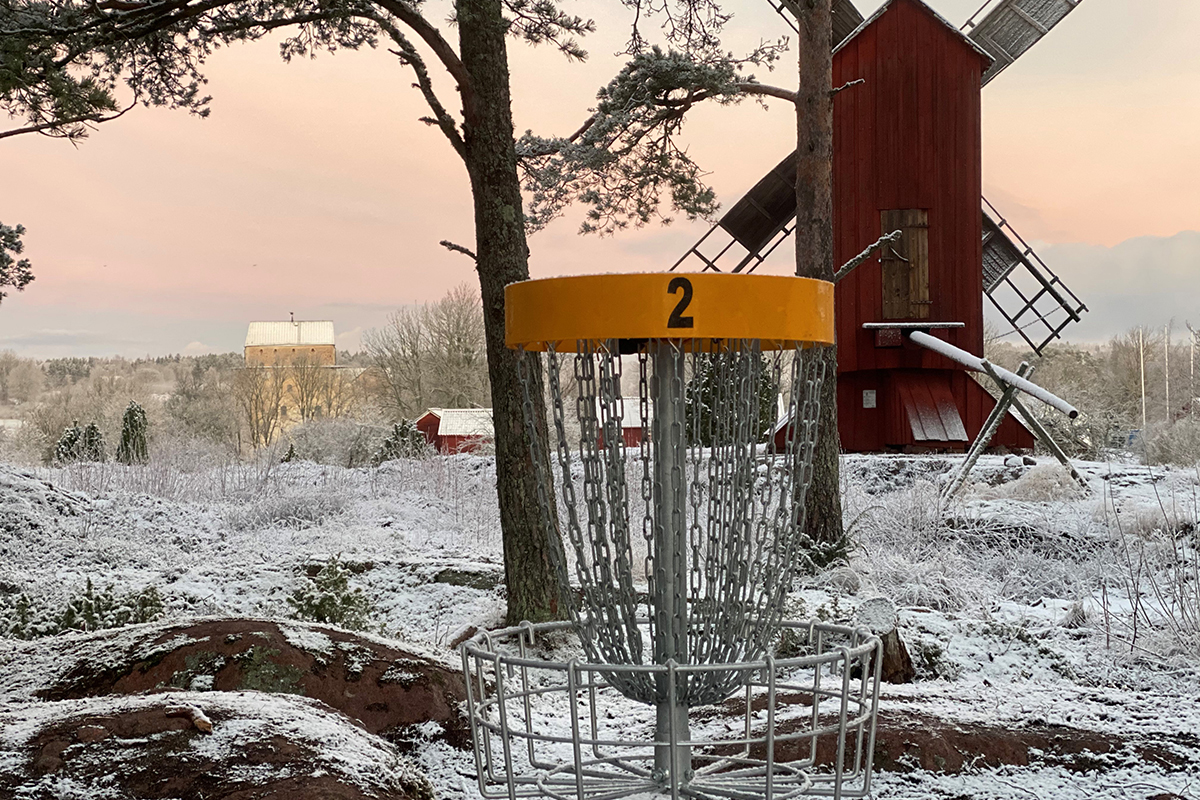 Why did Åland choose DiscGolfPark?
Though Mats was championing disc golf tourism, he was no disc golf expert. In fact, he had barely played the sport. But he was certain Åland's courses needed three things to make the impact he hoped for:
A unified, professional look
High quality equipment and infrastructure
Layouts that would be fun for players at various skill levels
He also wanted courses fast. His hope was for all 16 to be ready in just a few months – before the typical high time of Åland's tourist season in late July and early August. To get everything on his wishlist, Mats had to find a company specializing in disc golf course creation. After some research, he decided to give us at DiscGolfPark a call. "The feeling I got when I looked at the website – I felt that these guys were professional," Mats said.
Mats' request was so unusual that it took our representatives a bit of time to realize he was really asking for 16 courses and not 16 holes within just a few months. For reference, it typically takes that amount of time to build just one course if the job is simple. One of the people Mats spoke with early on was Pasi Koivu, a Finnish DiscGolfPark designer who became the architect of many of Åland's courses. "I was a bit skeptical," Pasi admitted. "We get a lot of calls that sound too good to be real. But it became clear in our first phone call that he really wanted those 16 courses. I think it took an hour, but once he explained everything, I was totally on board."
At this point, we and Mats were feeling optimistic about the chance to work together, but it took a phone call between Mats and DiscGolfPark founder Jussi Meresmaa to seal the deal. Shortly into the conversation, it was clear to both parties that this was a good match. "It took just seven minutes for us to establish trust with each other, and that is pretty strange," Mats said. For Jussi, the good vibes came fast, too. "I saw Mats' vision right away, and it felt like the perfect partnership," Jussi said. "I knew that we were the only partner who could fulfill his needs in the timeframe."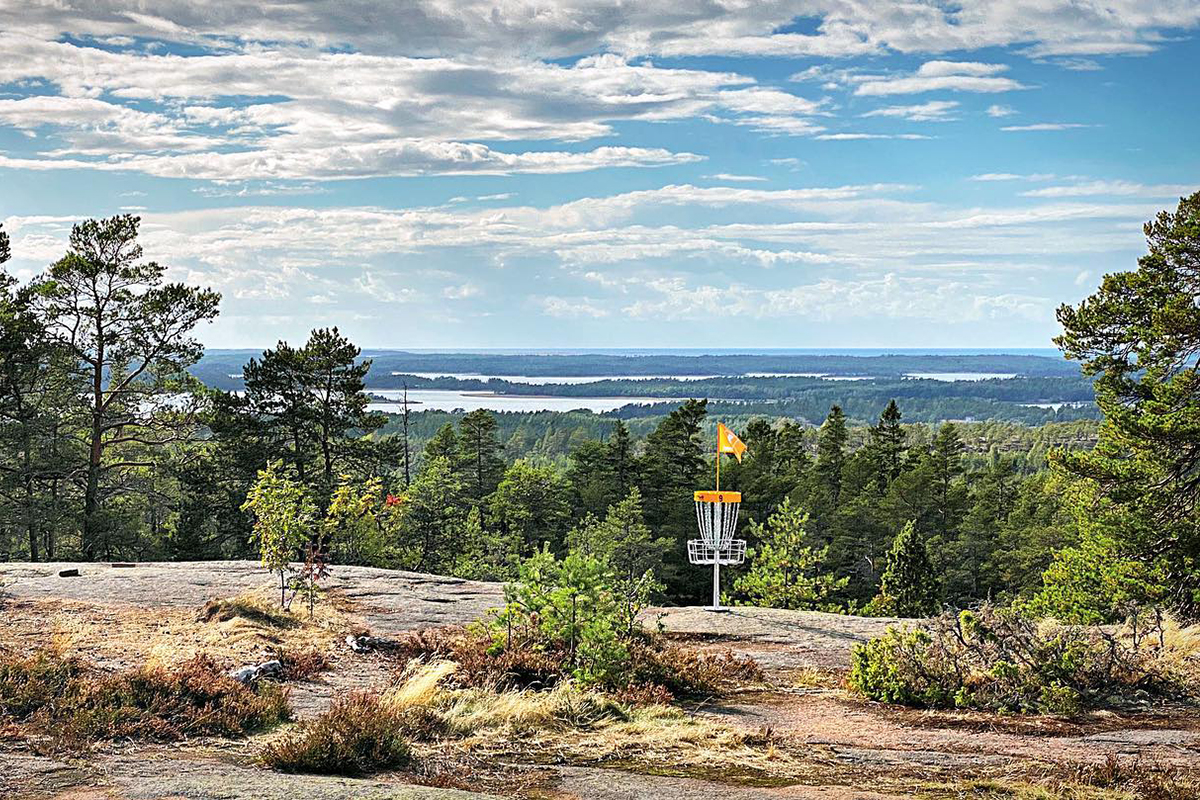 What did DiscGolfPark do for Åland?
DiscGolfPark is a full-service disc golf course design and construction company. We offer clients experienced course designers, professional-grade baskets (certified by the Professional Disc Golf Association for use in the sport's most elite events), our durable and popular turf tee pads, as well as the design and manufacture of tee signs and course maps. From viewing examples of the many DiscGolfParks around the world, Mats was confident that we could deliver the professional, unified look he wanted for Åland's courses. He was also thrilled to work with our designer Pasi.
"I told him that every course should have its own soul – to play all the courses should be the experience of a lifetime," Mats said. "That was the not-so-simple task I gave him, and he fulfilled it 100%."
The courses not only looked and played the way Mats had dreamed, they also opened right on schedule. Due to a few snags on Åland's side, not all 16 courses could be built in 2020. But by late July – right at the height of tourist season – Åland had 11 courses ready to entice and delight disc golf tourists.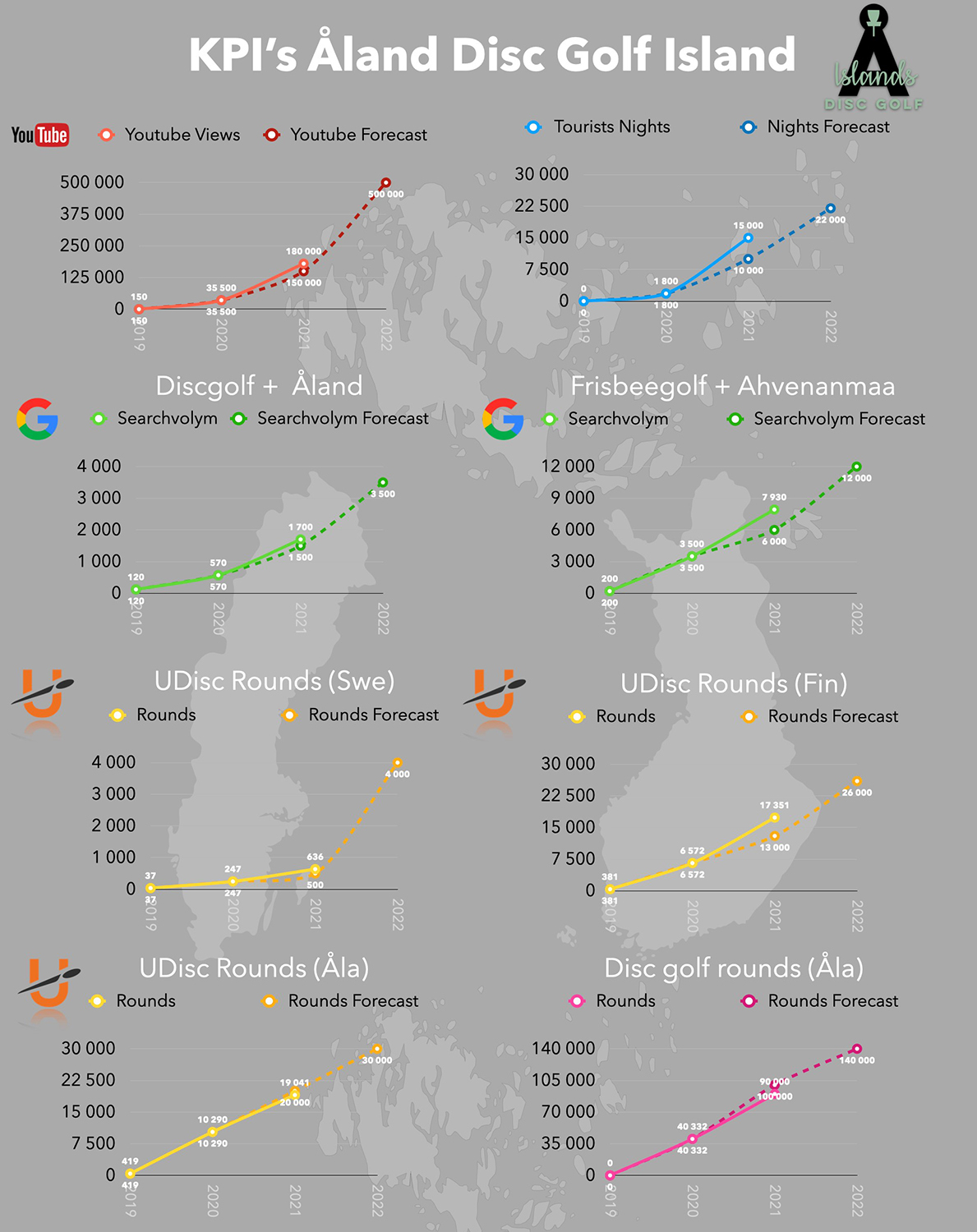 What signs show disc golf tourism is working for Åland?
As a data scientist, Mats is all about the numbers. And so far the math shows that disc golf has been and will continue to be a significant tourist draw for Åland.
Here are some of the most eye-catching stats from Åland disc golf so far:
Initial costs quickly recovered
Åland spent roughly 160,000€ to build courses, and that was recouped via tourist spending just a few months after courses opened.
Tons of plays
In 2021, there were more rounds logged on Åland (35,000 as of October 2021) with the scorekeeping feature of the popular UDisc app than there are citizens of Åland (just under 30,000). That's a stat no state in disc golf's birthplace – the U.S. – came close to matching within the same timeframe.
Of course, not every player uses UDisc, so Mats also has devices installed that count the number of players who visit a course. They show over 130,000 rounds of disc golf played in Åland since the courses opened. In July 2021 alone there were nearly 19,000 rounds played.
Earning a million
Based on surveys of tourists and other metrics, Mats estimates that disc golf added over 1.4 million € to the Islands' economy in 2021. He projects exponential growth of that total in years to come.
Staying power
The average disc golf tourist stays on the Islands four nights. Other tourists average 1.8 nights.
Growing interest
Online searches for "disc golf Åland" in Finnish and Swedish have recently far outpaced searches related to an industry the Islands have spent millions on in the last decade: traditional golf.
Easy marketing
Many pro disc golfers have YouTube channels with significant followings and are on the lookout for interesting places to film vlogs. Åland's big project has attracted a few well-known Finnish pros, resulting in hundreds of thousands of YouTube views and plenty of free hype for the Islands' courses.Additionally, popular disc golf media outlets have excitedly covered Åland's project, including the Professional Disc Golf Association, Ultiworld Disc Golf, and UDisc.
Article featured image: Fribarata Oy / Mikko Tanska