Why Toronto golf courses welcome winter disc golf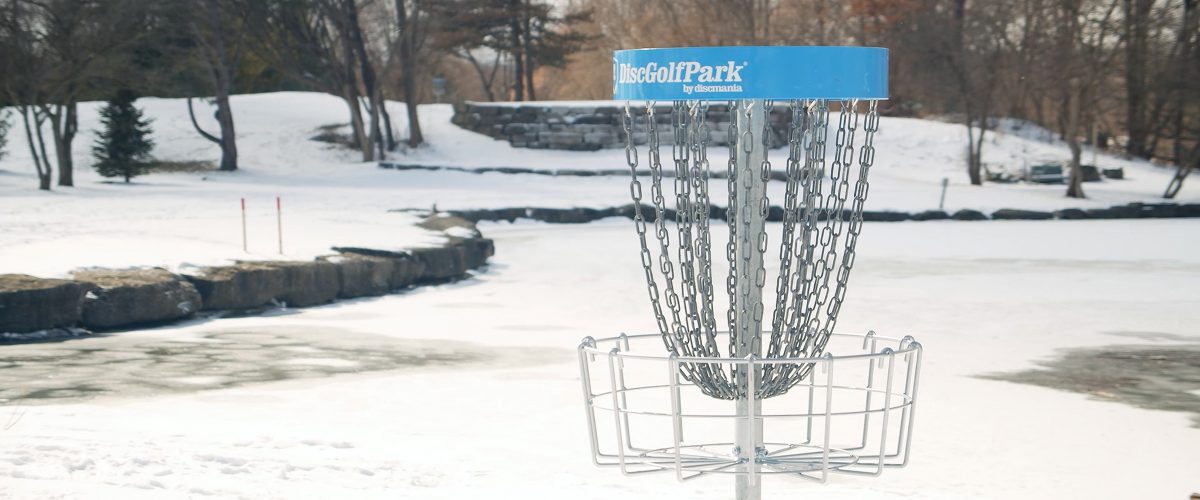 It was late in 2020, the COVID-19 pandemic was at its height, and winter was quickly descending on Toronto, Canada, and its nearly three million residents. To keep spirits up and infection rates down in the months ahead, city leaders were planning an initiative to get people outdoors where transmission was least likely.
But Toronto's winter highs average around freezing, and officials knew they'd need new and exciting options to convince citizens to brave the cold en masse.
Two people they turned to for help were Cara Hovius and Jeff MacKeigan, DiscGolfPark designers and the founders of ChainLink Disc Golf.
"They were launching Welcome T.O. Winter, and they asked if there was a way to build disc golf into it," MacKeigan said (T.O. is a common abbreviation for Toronto, Ontario).
ChainLink Disc Golf had been in talks with the city for some time about creating a disc golf course at one of Toronto's multiple city-owned traditional golf courses, and the Welcome T.O. Winter initiative seemed like the perfect time to try the idea out. The courses were closed to ball golfers in the colder months, and no major work was needed to make the landscape ready for disc golf.
Within four weeks, Hovius and MacKeigan had a temporary nine-hole course using DiscGolfPark baskets designed, approved, and installed at Scarlett Woods Golf Course.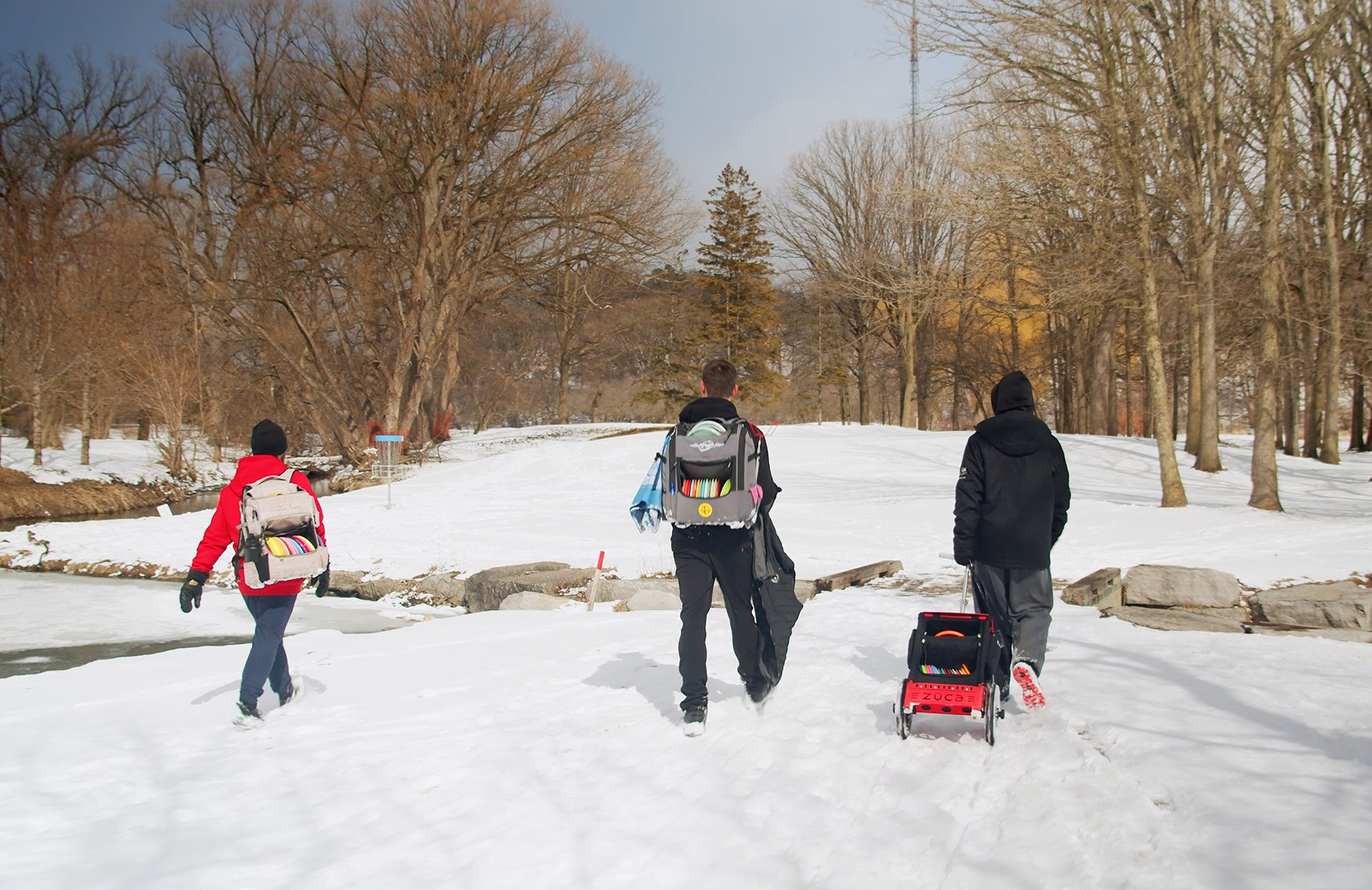 "One of the things we'll forever look back on and be proud of is we didn't launch Scarlett Woods Disc Golf Course, the mayor of Toronto did," MacKeigan said. "And it ended up being one of the most successful activations they had in the whole Welcome T.O. Winter initiative."
Cut to the end of 2022, and Welcome T.O. Winter is still a thriving program and disc golf's role in it has grown. Scarlett Woods saw thousands of rounds that first year and became an 18-hole course in 2021. This winter, Scarlett Woods is back and there's another nine-hole at Toronto's Dentonia Park Golf Course.
These results beg the question of whether bringing seasonal disc golf to traditional golf courses in areas with harsh winters could work elsewhere. Conversations with MacKeigan, Hovius, and the Toronto Parks Manager in charge of its golf courses, Goran Mitrevski, made it clear to us that it could. Below we explore the most interesting reasons why.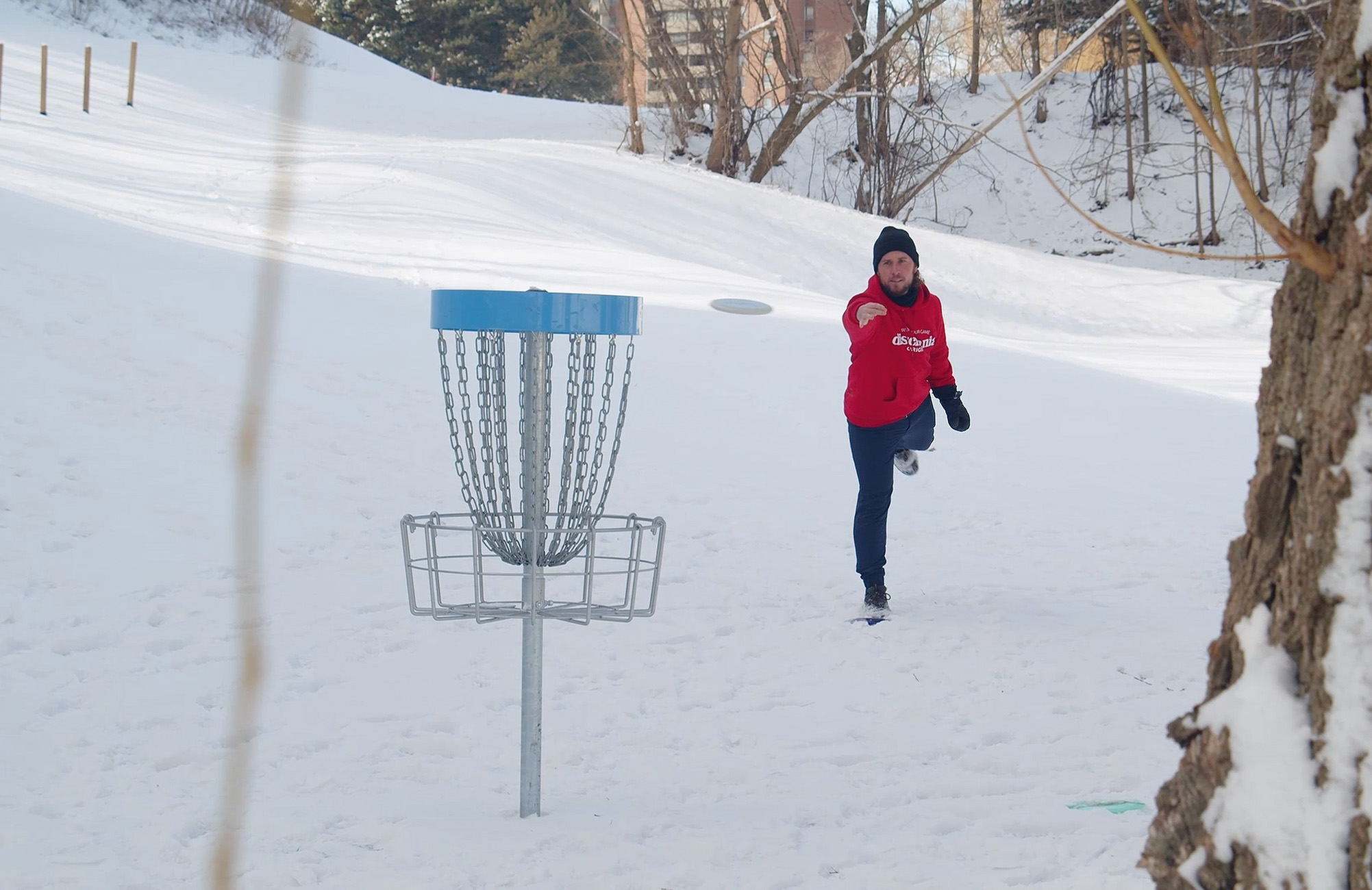 Disc golf makes golf courses usable year-round
There are some obvious reasons traditional golf isn't very fun during northern winters. Snow swallows the small balls and even if you manage to find them, playing them where they lie is virtually impossible.
Perhaps less apparent are the issues winter golf in harsh climates causes for course caretakers. Ice-hard balls are like artillery strikes on ice-hard greens, and unreplaced divots on frozen fairways are nightmares to fix when spring rolls around.
Winter disc golf, however, is better for both grounds crews and players.
Clearly, no clubs equal no big divots, and disc golf's elevated targets mean ground play isn't an essential part of the game, so courses can completely avoid golf greens. Additionally, discs are much bigger and easier to spot than golf balls. You can even tape ribbons to them that make them a cinch to find in snow but don't greatly affect their flight.
Toronto Parks Manager Mitrevski has been impressed with how disc golf makes golf courses capable of offering year-round recreation without damaging the facilities as well as how well the sport meshes with his department's overall goals.
"Toronto's parks, recreation facilities, and natural spaces are places where Torontonians, as well as visitors to our city, come together to build community and play, celebrate, and explore," Mitrevski said. "Offering disc golf seasonally at our golf courses has provided a unique opportunity to increase access and usage during the winter months. The sport has great potential to bring new users to enjoy the city's courses without causing any damage to existing golf infrastructure."
MacKeigan and Hovius mentioned an additional bonus of winter disc golf at golf courses: It offers an alternative for avid traditional golfers who otherwise might try to get illicit rounds in during the offseason. They even encountered a few of these golfers when creating the layout at Scarlett Woods. After explaining disc golf to them and offering them a few discs, the group became some of the most avid winter disc golfers in Toronto.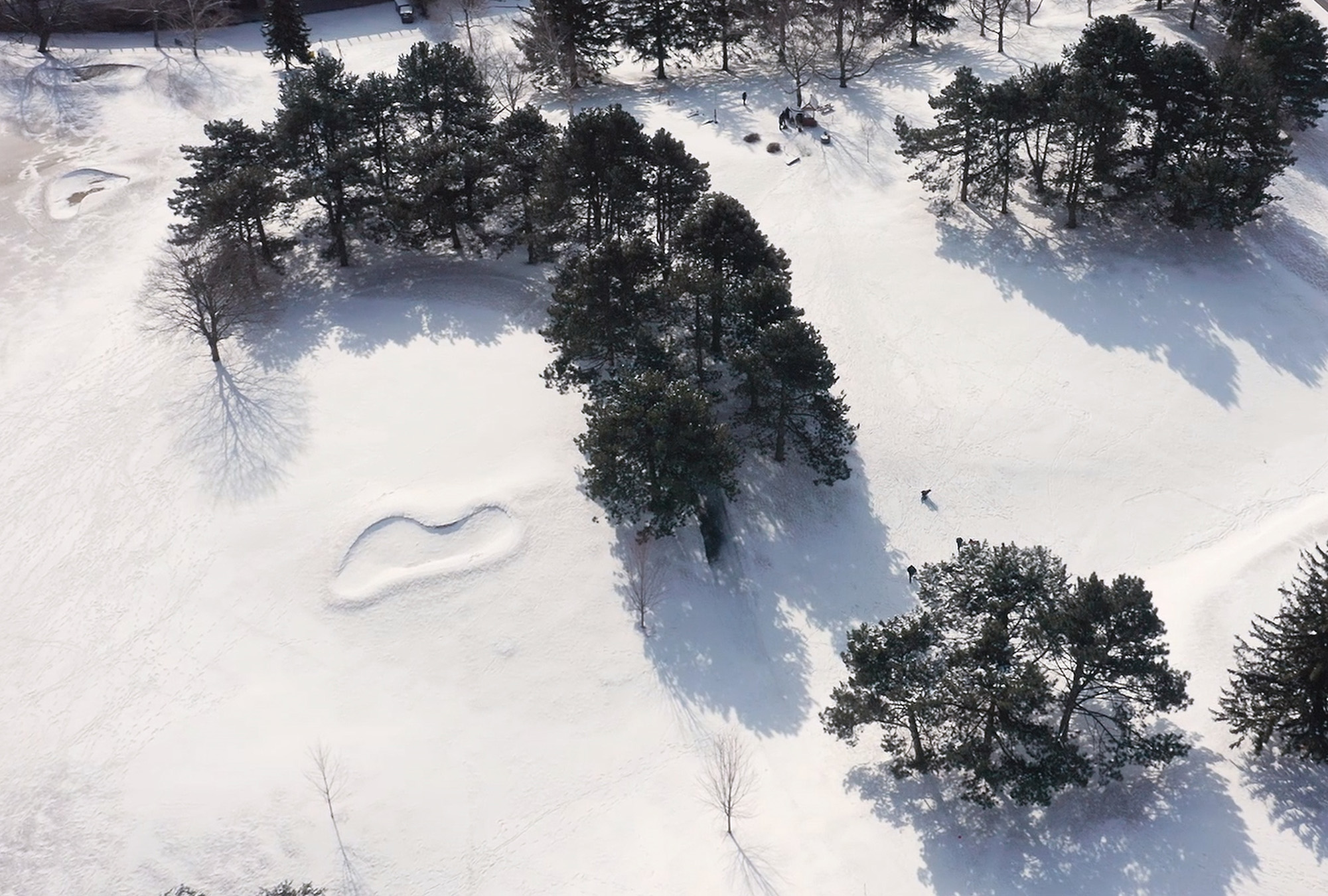 Disc golf changes views of golf courses
In the minds of many, golf is a game of the elite. Though public courses far outweigh private ones, the exclusivity of members-only country clubs and high-end resorts is often what shapes how golf is regarded.
In contrast, most of the world's disc golf courses are in public parks and 90% are free. The sport owes much of its growth to this accessibility and affordability.
The seasonal DiscGolfPark baskets at two of Toronto's golf courses – both of which are free to play – has helped alter public perception of these areas.
"What disc golf does, as well as some of the other recreational opportunities offered at these facilities, is change the image of what those spaces are for," Hovius remarked. "The reality is that these are municipal golf courses and are already pretty inclusive, not exclusive country clubs. But disc golf still helps with the image challenges these spaces struggle with."
MacKeigan added on to Hovius' comments.
"Disc golf helped the City of Toronto reposition and make these areas not just golf courses but recreational facilities," MacKeigan said.
Mitrevski, too, said that disc golf has been a successful part of the City of Toronto's recent efforts to meet increased desire and need for outdoor recreational opportunities all of its citizens can enjoy.
"The city's courses have quickly become highly-rated and well-used for disc golf," Mitrevski said. "The pandemic increased demand for outdoor amenities and helped Parks, Forestry, and Recreation pivot and look at new opportunities. We've seen parks become extensions of people's living areas, and this has only reinforced the importance of recreation infrastructure in Toronto."
And that's an infrastructure disc golf is increasingly a part of.
Can others follow Toronto's model?
There aren't many reasons golf courses in areas with sizeable populations couldn't find the same success Toronto has with winter disc golf. However, two things that could derail such efforts are equipment that can't stand up to tough winters and poorly-designed holes.
On the equipment side, DiscGolfPark's baskets have stood up well to Toronto's winters…and a lot, lot worse.
For tips on getting holes right, check out our basic dos and don'ts of disc golf course building. You can also contact us here at DiscGolfPark for a consultation or to get set up with one of our experienced course designers.